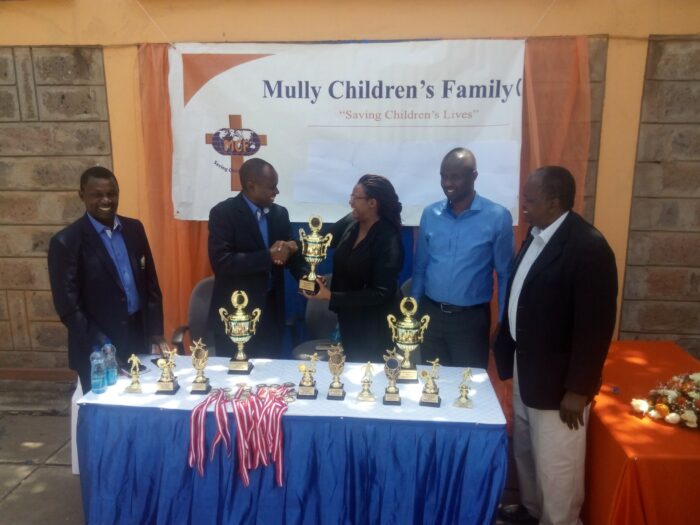 February 13, 2018 2:38 pm
MCF PARTNERS WITH FOOTBALL KENYA FEDERATION
As part of our strategy to scale up talent development of children and youth within MCF and in Kenya, Mully Children's Family is partnering with Football Kenya Federation to inspire and foster football development both at the grass-root and National level. On 6th February 2018, MCF donated a set of trophies and medals to be competed for by teams from the FKF Southern Zone Leagues in three counties covering Kitui, Makueni and Machakos. The trophies and medals will be used to reward the winning teams, best player and best goalkeeper.
While handing over the donation to the Branch Chairman FKF Southern Zone Mr. Anthony Makau, MCF Financial and Administration Director Grace Mulli said MCF is delighted to be associated with FKF and efforts to promote sports in the region because of the passion we have for talent development among children and Youth within MCF and Kenya as a whole.
Mr. Makau said it was the first time the Southern Zone is receiving such a kind of donation from an organisation and commended MCF for the passion the organisation has demonstrated in promoting talent development among the youth. He also commended MCF for supporting the MCF Football Club which is now playing in the FKF Second Division after entering the League in 2016. The branch chairman was accompanied by Southern Zone Branch Secretary Mr. Samuel Mwongela, FKF NEC Eastern representative Mr. Nabea Murithi as well as a few Club Chairmen representing Football Clubs from the FKF Southern Zone.